An Artists' Conversation, with Roger Shimomura and Michelle Fujii
Oregon Nikkei Legacy Center
121 NW 2nd Avenue
Portland, Oregon, 97209
United States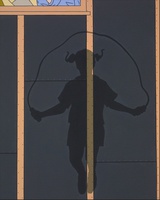 Please join Oregon Nikkei Endowment in welcoming Roger Shimomura to the Oregon Nikkei Legacy Center to speak about his showing of Shadows of Minidoka. Roger will be joined by Michelle Fujii, Artistic Director of Portland Taiko, for a conversation on being a Japanese American contemporary artist exploring themes of history and culture.
Free and open to the public. This event is in conjunction with the exhibit Roger Shimomura: Selections from Shadows of Minidoka, showing at the Oregon Nikkei Legacy Center. For more information, visit www.oregonnikkei.org.

Oregon_Nikkei . Last modified Jul 06, 2012 8:01 p.m.
---