San Jose Taiko @ SF Ethnic Dance Festival
Yerba Buena Center for the Arts Novellus Theater
701 Mission Street
San Francisco, California, 94103
United States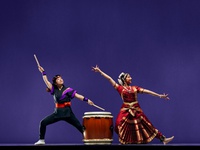 San Jose Taiko will be collaborating again with Abhinaya Dance Company of San Jose for the 34th Annual San Francisco Ethnic Dance Festival , "The World United Through Dance." This festival features 30 veteran Bay Area dance companies performing both ancient and contemporary dances, including ground breaking cross-cultural collaborations and encore performances of some favorite dance pieces from past seasons.
WEEKEND 5 AT YERBA BUENA CENTER FOR THE ARTS

Saturday, June 30 at 3pm and 8pm
Sunday, July 1 at 3pm
Tickets: $18 - $58
Yerba Buena Center for the Arts Novellus Theater
Tickets , Directions
Performers (in show order):
Abhinaya Dance Company of San Jose & San Jose Taiko , India and Japan
Mariam Gaibova and Abbos Kosimov , Tajikistan and Uzbekistan
LIKHA - Pilipino Folk Ensemble , Philippines
Nā Lei Hulu I Ka Wēkiu , Hawai'i
Gadung Kasturi , Bali, Indonesia
Theatre Flamenco of San Francisco , Spain
Ballet Folklórico Mexicano de Carlos Moreno , Mexico
Diamano Coura West African Dance Company , Liberia


San_Jose_Taiko . Last modified Jun 20, 2012 10:41 a.m.
---