Panel Presentation / Discussion: On Being Japanese Canadian
John B. Aird Gallery
900 Bay Street. Macdonald Block
Toronto, Ontario, M7A 1C2
Canada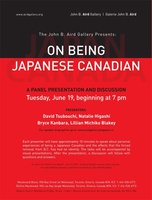 On Being Japanese Canadian
Marking the 70th Anniversary of the Japanese Canadian Dispersal
Panel presentation and discussion with David Tsubouchi, Natalie Higashi, Bryce Kanbara, Lillian Michiko Blakey

Each presenter will speak about personal experiences of being a Japanese Canadian and the effects that the forced removal from B.C. has had on identity. The talks will be accompanied by visual presentations.
After the presentation, a discussion will follow with questions and answers.

Visit the John B. Aird Gallery blog for presenter bios >>

vkm . Last modified Jun 14, 2012 6:07 p.m.
---