Movie: Letters from Iwo Jima (free)
San Mateo Main Library
55 W. 3rd Ave
San Mateo, California, 94402
United States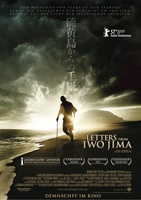 Special Asian Pacific Heritage Events at San Mateo Main Library during the month of May.
Movie: Letters from Iwo Jima (Starring Ken Watanabe)
Directed by Clint Eastwood, this intense war drama looks at the battle of Iwo Jima from the point of view of the Japanese soldiers called upon to defend that pivotal island.
Language: Japanese with English subtitles
Rater R for graphic war scenes; 141 minutes; 2006
[Asian American Curriculum Project]

Komo . Last modified May 04, 2012 1:02 a.m.
---