San Jose Taiko - Rhythm Journey Concert in Memphis, TN
Orpheum Theatre
203 S. Main St.
Memphis, Tennessee, 38103
United States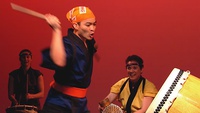 San Jose Taiko is a celebration of the ancient Japanese art of drumming weaving traditional Japanese sounds with the beat of world rhythms. At San Jose Taiko, Japanese, African, Balinese, Latin, American rock, and jazz merge to produce an innovative contemporary sound.

With the power and beauty of taiko at its center, San Jose Taiko aims to transcend cultural boundaries and to foster greater understanding of Japanese American culture. Recommended for children of all ages.
Looking to plan a student field trip? Click Here
For more information and to purchase tickets, click here .

San_Jose_Taiko . Last modified Nov 14 2011 2:52 p.m.
---