Miyavi at the Chicago House of Blues
House of blues
329 N. Dearborn
Chicago, Illinois
United States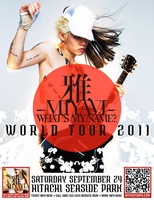 WHAT'S MY NAME? WORLD TOUR 2011
MIYAVI and his inimitable `SAMURAI GUITARIST` persona are a global phenomenon.
Miyavi was born in Konohana-ku, Osaka, Japan, to a Japanese mother and second-generation Zainichi Korean father.
His music, recorded only with his guitar playing and the tight-as-a-vice drumming of BOBO (54-71), is a stripped down and stoical piece of work, filtered through various rock, hip hop, and dance music influences. This is the result of MIYAVI's long Journey which started at the end of '90s.
In 2007 Miyavi relocated to Los Angeles for 6 months to study abroad. He polished his English language skills and on weekends, street performed in Venice Beach.
http://myv382tokyo.com/

intrepidmouse . Last modified Sep 21, 2011 10:08 a.m.
---