Book Reading - Making Home from War
Oregon Nikkei Legacy Center
121 NW 2nd Avenue
Portland, Oregon, 97209
United States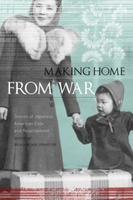 Making Home from War:
Stories of Japanese American Exile and Resettlement
A collection of Nisei writings
Written by thirteen Japanese American elders, Making Home from War is a collection of stories about their exodus from the World War II camps into a world that in a few short years had drastically changed. In order to survive, they found the resilience they needed in the form of community, and gathered reserves of strength from family and friends. Through a spectrum of conflicting and rich emotions, Making Home from War demonstrates the depth of human resolve and faith during a time of devastating upheaval.
Editor Brian Komei Dempster and writer Harumi Serata (from Washington) and writer Sato Hashizume (from Portland) will be visiting the Legacy Center to discuss Making Home from War. In the essay "Return to Jefferson Street" Sato Hashizume shares her impressions on the changes in her old neighborhood and recollects the Vanport flood.
For more information or to RSVP, please contact Oregon Nikkei Endowment at 503-224-1458, or go to www.oregonnikkei.org.

Oregon_Nikkei . Last modified Sep 15, 2011 5:25 p.m.
---