Ayagoromo - Mindful Transitions
Japanese American National Museum
100 North Central Ave
Los Angeles, California, 90012
United States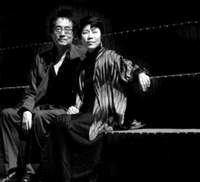 Traditional Japanese Folk songs assimilated within Modern World Music sensibilities. Yoko Fujimoto and Derek Nakamoto bring an eclectic ensemble of musicians to Tateuchi Democracy Forum.
Vocalist Fujimoto, member of the internationally acclaimed Japanese group Kodo, and Composer/Arranger/Pianist Nakamoto will be joined by guest artist Kaoru Watanabe on Japanese Woodwinds & Percussion, Abe Lagrimas Jr. on Ukelele, Vibes & Percussion and Cameron Stone on Cello. Yoko beautifully exemplifies her mastery of singing Japanese folk songs.
The songs will be "framed" with a modern twist of Impressionistic Jazz, Classical and R&B for which Derek is known. The concert will debut new works reflecting the goal of preserving the essence of traditional music with arrangements that make the songs relevant to the present generation.
$10 members; $15 non-members. Tickets can be purchased here.
Co-presented by Kodo Arts Sphere America.

JANM . Last modified Jul 26, 2011 4:11 p.m.
---