Kindred Spirits: Silva | Tanimura Art Show
Helium Gallery
4710 North Ravenswood Avenue
Chicago, Illinois
United States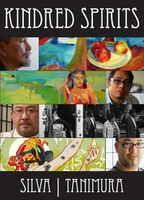 4 artists • 3 generations • 2 families • 1 spirit
Opening night: Friday, July 29, 7:00 PM
wine, light refreshments and live music.
As a follow-up to last year's "Father & Son" show featuring Michael and David Tanimura, this year we are privileged to team up with another father and son: Bueno and Eulalio de Silva.
The exhibition will continue for 2 weeks with closing celebration on August, 13.
Check out the artists at:
Bueno: www.BuenoSilva.com
Eulalio: www.fabiedesilva.com/home.​php
Michael: www.sicreative.com/mwt
David: www.MusashiMixInq.com

intrepidmouse . Last modified Jul 26 2011 10:57 a.m.
---