BOOKS & CONVERSATIONS: "Vanished: Lompoc's Japanese, Of One Hundred Families Only Two Returned" by John V. McReynolds
Japanese American National Museum
100 N Central Ave
Los Angeles, California, 90012
United States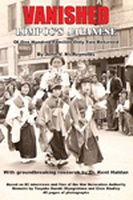 The story of tiny Lompoc, California, where a vibrant and varied Nikkei community with 40 year roots was dispossessed in 1942 and denied return, it was pieced together from interviews with more than 80 survivors, uncommonly candid reports by a War Relocation agent on the scene, and from local newspaper accounts. "There are threats about burning my house if I have any more Japanese in my home," wrote George Kimbel, a deeply religious groundskeeper. "Ordinarily it would be best not to pay any attention to this." He changed his mind due to "the widespread terrorism which is being tried throughout the state."
Grassroots terrorism in rural California as Manzanar and other camps closed, remind the reader of the Jim Crow South. Anonymous threats, an unexplained fire at a Nisei-owned house, and racial exclusion clauses inserted into farm leases were three elements of an organized campaign to block return to Lompoc. Spearheaded by a packing shed owner, a deputy sheriff and a farm advisor, it was 98% successful. The few Nikkei who dared come back found their children harassed. By 1948 only two remained.
"(C)lassic in terms not only of narrative force, organizational clarity, innovative research, and intellectual penetration but for what it contributes to diversity, civil liberties, and social justice. Reading it made an impact on me similar to Michi Weglyn's classic Years of Infamy." Dr. Arthur Hansen, Professor Emeritus of History and Asian American Studies, CS Fullerton.
John McReynolds' wide range of investigative writing has appeared in twelve California Central Coast newspapers and magazines from the Santa Barbara Independent to the San Luis Obispo New Times. He retired from the Santa Maria Times/Lompoc Record in 2006. His sportswriting has been printed in The National Pastime, Grandstand Baseball Annual, Elysian Fields Quarterly, Mindprints, La Voz del Beisbol Latino, and the Viva Beisbol website. He received the 1997 MacMillan Award and the 1998 Robert Peterson Recognition Award from the Society for American Baseball Research. In 2009 he was named a finalist in the Environment and Agriculture category of the California Newspaper Publishers' annual competition. His first book: Lompoc: Padres to Pinot, was published in 2009. He has been married 41 years to Barbara Lepak McReynolds, senior speech pathologist with the Lompoc Unified School District.
Author John V. McReynolds will sign books after the programs.
Program is free with admission. Reservations recommended to rsvp@janm.org or 213.625.0414 at least 48 hours prior to the event. Include the name, date, and time of the program, as well as your name and the total in your party.

JANM . Last modified Jun 04, 2011 4:56 p.m.
---