3 Strings, Songs of Okinawa
The Center for Early Education
563 N Alfred St
West Hollywood, California, 90048
United States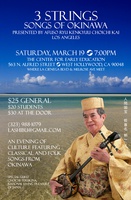 Sanshin virtuoso Choichi Terukina, a National Living Treasure of Japan, takes the stage March 19th in West Hollywood, for an evening of classical and folk music of Okinawa--Terukina' s first ever Los Angeles concert. Having dedicated his life to the study and performance of Okinawan music, the septuagenarian Terukina is recognized in Japan as an authority on classical Ryukyu Koten music and master of the three-stringed Okinawan lute known as the sanshin. The infectious melodies and upbeat rhythms of the ancestral music of Okinawa have drawn prominent Western musicians to the islands, from well-known guitarists Ry Cooder and Bob Brozman to composers Michael Nyman and Ryuichi Sakamoto. In this rare U.S. appearance, Terukina, and a host of performers from Okinawa, Los Angeles and Hawaii, present his unique and dynamic approach to the classical and folk music of Okinawa.

Testifying to Okinawans' love of culture, these vibrant songs and dances illustrate the history of the island kingdom. Much of even the earliest music has survived into modern times, crossing borders and oceans to be performed and enjoyed miles beyond Okinawan shores. In his Los Angeles concert debut, Terukina plans to introduce the recently formed Choichi Kai L.A. Shibu, the first branch of his Sanshin dojo in Los Angeles and the mainland United States.

The concert features performances ranging from traditional to contemporary. In
addition to classical performance and dance, Terukina and his ensemble will perform the musical comedy " Bazangaa," along with " Akebono Sound," a series of Terukina' s folk music based compositions performed in a modern context. The concert will feature translations and English explanations of the music, as well as the instruments and dance performances.

The concert, " 3 Strings, Songs of Okinawa" will take place at 7:00 p.m., March
nineteenth, at The Center for Early Education, Community Center, 563 N Alfred Street, West Hollywood, CA 90048. Call (323) 988-1079, or email LAshibu@gmail.com for tickets. Tickets are available for $25 before the show or $30 at the door. Students are $20 with current student identification. Join Choichi Terukina Sensei and the Choichi Kai LA Shibu for a night of color, culture and classical beauty, Okinawan style.

lttomori . Last modified Feb 16 2011 11:58 a.m.
---