Little Tokyo Historical Society's Shinnenkai Luncheon
Chop Suey Cafe and Lounge
347 East First Street
Los Angeles, California, 90012
United States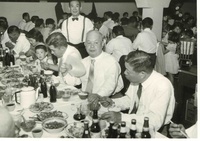 Members of the Little Tokyo Historical Society welcome the public to join them in a Shinnenkai (New Year's) Luncheon on Saturday, February 5th from 11:30 a.m. to 1:30 p.m. at Chop Suey Café & Lounge (former Far East Café) at 347 E. First Street. $10 per person.
The Little Tokyo Historical Society, an all-volunteer organization, will celebrate its major accomplishments of 2010, including its first publication, Los Angeles's Little Tokyo (Arcadia Publishing) and will share its ambitious plans for 2011.
Please RSVP to Serena Ngo at littletokyohs@gmail.com or at (213) 473-3030 ext. 169.
###

lthistory . Last modified Jan 25 2011 1:40 p.m.
---