JAPANESE DOUBLE-FEATURE: Samurai Rebellion & The Sword of Doom
New Beverly Cinema
7165 Beverly Blvd
Los Angeles, California, 90036
United States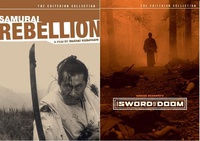 Come see an amazing double-feature of the Japanese classics, SAMURAI REBELLION and THE SWORD OF DOOM. These movies will be projected with actual 35mm film prints in the New Beverly Cinema, a movie theater owned by filmmaker Quentin Tarantino.
True Double-Feature: See both films for just one low bargain price!

SAMURAI REBELLION
1967, Japan, 128 minutes, Black and White
Directed by Masaki Kobayashi
Starring Toshiro Mifune, Yoko Tsukasa, Takeshi Kato, Tatsuyoshi Ehara, Etsuko Ichihara
in Japanese with English subtitles
SYNOPSIS: Toshiro Mifune stars as Isaburo Sasahara, an aging swordsman living a quiet life until his clan lord orders that his son marry the lord's mistress, who has recently displeased the ruler. Reluctantly, father and son take in the woman, and, to the family's surprise, the young couple fall in love. But the lord soon reverses his decision and demands the mistress's return. Against all expectations, Isaburo and his son refuse, risking the destruction of their entire family. Director Masaki Kobayashi's Samurai Rebellion is the gripping story of a peaceful man who finally decides to take a stand against injustice.
THE SWORD OF DOOM
1966, Japan, 119 minutes, Black and White
Directed by Kihachi Okamoto
Starring Tatsuya Nakadai, Michiyo Aratama, Yuzo Kayama, Yoko Naito
in Japanese with English subtitles
SYNOPSIS: Tatsuya Nakadai and Toshiro Mifune star in the story of a wandering samurai who exists in a maelstrom of violence. A gifted swordsman—plying his trade during the turbulent final days of Shogunate rule—Ryunosuke (Nakadai) kills without remorse, without mercy. It is a way of life that ultimately leads to madness.
SHOWTIMES:
Sunday, November 14
5:30 p.m. Samurai Rebellion
8:00 p.m. The Sword of Doom
Monday, November 15 (Note change in showtimes)
7:30 p.m. Samurai Rebellion
10:00 p.m. The Sword of Doom

LOCATION: New Beverly Cinema
7165 Beverly Blvd
Los Angeles, CA 90036
(near the intersection of La Brea Ave and Beverly Blvd)
ADMISSION: General - $7.00
Full-time Students with Current ID - $6.00
Seniors over 62 - $5.00
Cash only please

$7 General admission tickets are available for sale online at http://www.brownpapertickets.com/event/136709
NOTE: Your ticket admits you to BOTH films. You may also just watch one film if you wish. The box office opens 15 minutes prior to the first film and remains open until the second film starts.
Don't miss your chance to see these gripping films on the silver screen!
For more information, please visit: http://www.newbevcinema.com/
For recorded program information, call (323) 938-4038
Thank you!

Kagemusha . Last modified Nov 14, 2010 2:26 p.m.
---