Book Signing: BEST FRIENDS FOREVER: A WWII Scrapbook by Beverly Patt
Japanese American National Museum
100 N. Central Ave.
Los Angeles, California, 90012
United States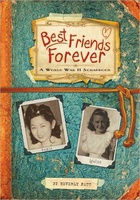 Award winning author Beverly Patt will read from this moving and powerful fictional scrapbook which features a friendship that even war could not tear apart.
In April of 1942, 14-year-old Louise Krueger starts a scrapbook when her best friend, Dottie Masuoka, must move to a concentration camp for Japanese Americans in Washington state. The elaborate scrapbook design includes historical photographs and recreated period objects from Louise's life "on the home front" and Dottie's letters and drawings from the concentration camp.
There will be a book signing after the program.
Reservations recommended to rsvp@janm.org or 213.625.0414 at least 48 hours prior.
www.janm.org
*This book recently received a starred review in School Library Journal and named to the Alan County Mock Newbery list.

JANM . Last modified Sep 29 2010 11:51 a.m.
---