Revitalization of Communities:
At NJAHS' Peace Gallery
1684 Post St.
San Francisco, California, 94115
United States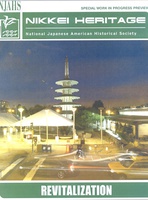 Panel Discussion on Revitalization Strategies
Moderator: Ben Hamamoto, Editor, Nikkei Heritage magazine. Panelist: Ken Kaji, retired architect and social planner; Jill Shiraki, California Japantowns project. Other guests to be announced. Admission is Free!

njahsdev . Last modified Aug 30, 2010 4:12 p.m.
---