America-Japan Grassroots Summit
Japantown
Post Street between Gough and Webster

San Francisco, California, 94115
United States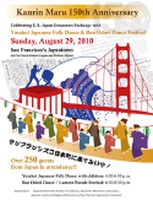 Please join in the celebration of the 150th Anniversary of the Kanrin Maru and the 2010 America-Japan Grassroots Summit. Featured activities are:
August 24, 2010 - Japanese Heritage Night with the San Francisco Giants in celebration of America-Japan Grassroots Summit San Francisco Bay Area 2010. Click here for details.
August 25, 2010 - Opening Ceremony at the Westin St. Francis Hotel in San Francisco. Click here for details. NJAHS' Exhibit 1860 Pacific Overtures sharing the story of the Kanrin Maru will be on view at this event as well.
August 29, 2010 - Chochin Gyoretsu Lantern Parade on Post St. in San Francisco Japantown. Click here for details.
Click here for summit schedule.

njahsdev . Last modified Aug 19, 2010 12:35 p.m.
---