NJAHS Gallery Open during the Nihonmachi Street Fair
At the NJAHS Peace Gallery
1684 Post Street
San Francisco, California, 94115
United States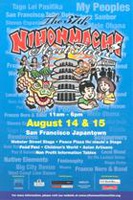 During the 37th Nihonmachi Street Fair, NJAHS opens our gallery. Please come and chill out. You can see the exhibit and shop here. Our friendly staff and volunteers are waiting for you!
To get more info about the Fair, visit http://www.nihonmachistreetfair.org/ or check Nichi Bei Weekly.

njahsdev . Last modified Aug 10, 2010 12:37 p.m.
---