The Foundation for Asian American Independent Media Fundraiser Event
Andrew Bae Gallery of Contemporary Asian Art
300 W. superior Street
Chicago, Illinois
United States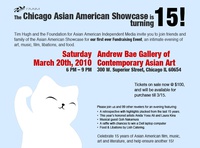 Tim Hugh and the Foundation for Asian American Independent Media invite you to join friends and family of the Asian American Showcase for our first ever Fundraising Event, an intimate evening of art, music, film, libations, and food.
Saturday, March 20th, 2010
6 PM – 9 PM
Andrew Bae Gallery of Contemporary Asian Art
300 W. Superior Street Chicago, IL 60654
Please join us and 99 other revelers for an evening featuring:
• A retrospective with highlights plucked from the last 15 years.
• This year's honored artists Anida Yoeu Ali and Laura Kina
• Musical guest Goh Nakamura
• A raffle with chances to win a Dell laptop computer.
• Food & Libations by Lish Catering. Celebrate fifteen years of
Asian American film, music, art and literature, and help ensure another 15!
Please RSVP by 3/15
Fundraiser ticket deadline extended to 3/15!
Also available to RSVP online and pay at the door!!
More information, please visit:
http://www.faaim.org/fundraiser/
Foundation for Asian American Independent Media - Fundraiser
www.faaim.org

intrepidmouse . Last modified Jul 09, 2010 12:14 p.m.
---