The Moving Architects presents The Tasting Room with Guest Artist Dancer Ayako Kato
Links Hall
3435 N. Sheffield
Chicago, Illinois
United States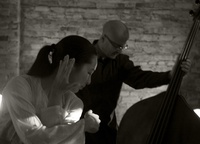 The Moving Architects presents
The Tasting Room
with Guest Artist Ayako Kato
http://www.artunionhumanscape.net/
http://www.themovingarchitects.org/events.html

October 16-17, 2009 / 8pm

October 18, 2009 / 7pm

Links Hall
3435 N. Sheffield Ave.

Chicago, IL

Tickets :

$15 online, $18 at the door
More information about Ayako Kato http://www.artunionhumanscape.net/

The Tasting Room is a new evening of dance works presented by The Moving Architects with choreography by Artistic Director Erin Carlisle Norton and guest performer/choreographer Ayako Kato.
Featuring the premiere of Standing Girl with Raised Right Elbow , a tightly carved solo created and performed by Norton, as well as The New , an angular group piece with a mod flair and 60's surf rock soundtrack. Ayako Kato's new solo work impression seeks to illuminate new understandings of "the other" through the body's myriad movements. Traveling from stage to site-specific locations, the evening will also include the cinematic premiere of Norton's quartet This Sandy Cube by Filmmaker Jocelyn Kelvin.

intrepidmouse . Last modified Jul 09, 2010 12:13 p.m.
---