Yata Dinner-Dance
Nishi Hongwanji Buddhist Temple
815 E First St
Los Angeles, California, 90012
United States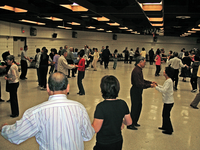 Glenn and Lezlie Yata of YataDance are hosting another dinner-dance social!
Learn merengue starting at 6:00pm. No partner needed! It's a fun and easy dance to pick up!
A buffet dinner will be served at 7:00pm, followed by general ballroom dancing.
For ticket information to both both events, please call Glenn Yata at (714) 896-8405 or Em Yamada at (310) 306-9338. Advance ticket sales only.

More information about YataDance is at:
http://www.yatadance.com

letsugo . Last modified Jul 09 2010 12:13 p.m.
---