JASC Chicago - All-Camps Reunion
JASC Community Center
4427 North Clark Street
Chicago, Illinois, 60640
United States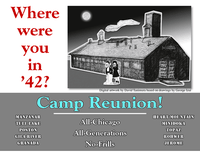 All-Camps Reunion
Sunday, August 2, 2009 • 1:00 p.m.
JASC Community Center
4427 North Clark Street • Chicago, Illinois 60640
Tickets: $12.50 per person • $10 per person for JASC members
Whether you're a Nisei, Sansei, Yonsei, or Gosei, whether you're a student of history, or whether you've lived through history, you're invited to come to the JASC on Sunday, August 2, at 1:00 p.m. for a Chicago All-Camps Reunion.

The program will include a mini-bento lunch and a trip back in time. See what Bay-area Nikkei saw as they were moved from their homes to assembly center to relocation center. Examine items from and about camp. Reminisce with old friends, and share camp stories with the kids and grandkids.
Seating is limited, so place your reservations now!
Questions? Call 773.275.0097, ext. 222, or e-mail legacy@jasc-chicago.org.

Please forward this e-mail to others who may be interested in this fun and educational event.
You are receiving this e-mail because you have indicated interest in receiving information about JASC and/or Japanese American events and activities. Please contact the sponsoring organization directly for information, if it is different from the JASC. If you would like to unsubscribe, or feel that you have received this information in error, please e-mail us at jascinfo@jasc-chicago.org.

intrepidmouse . Last modified Jul 09 2010 12:12 p.m.
---