"Certain events can have a major impact that will last a lifetime. The forced removal of the Japanese Canadian - my family was among them - from the west coast into the British Columbia (BC) interior in 1942 is one of those events. My troubled feelings regarding this disordered time have remained unfaded along with my ambivalent attitude towards being Canadian of Japanese origin."

— Artist Norman Takeuchi
As we launch into the new "Canadian Nikkei Artist" series, I wanted to start with artist Norman Takeuchi who was born in 1937 in Vancouver, which means, of course, that he was a victim of the forced internment as a child.
As a Nisei, he is a generational bridge from his own to younger ones. Remembering that he grew up at a time when the expectation of whites was that we Japanese Canadians (JCs) were expected to accept racism as a condition for being here through to 2019 when there are laws now to protect us from the racists and bigots, the complexion of racism has changed but it is still very much one that exists today, now labeled too as hate crimes.
Takeuchi was born in Vancouver and his family was forced from their Vancouver home to a "self-supporting camp" (e.g., they paid for their own keep after having all of their property stolen away). He went to art school in Vancouver with artist Tsuneko ("Koko") Kokubo who lives with partner Paul Gibbons in Silverton, BC.
Lovely thing about art is that it is a tangible representation of how an artist sees and interprets an experience. We educators understand the power of teaching and learning through the arts. So, rather than being apologists for the systemic racism that we suffered, it is the artist who really dare to give us mirrors of ourselves to look into that deepen our understanding of ourselves. They offer alternative versions of racism beyond the pat and dismissive "shigataganai" (it cannot be helped) that we've heard ad nauseum from our parents and grandparents that just doesn't cut it now in 2019.
So, like the memories of my own Nisei Dad, foggy ones are turning sketchier and, with time, are fading altogether. Even as a kid, I never believed any of those "shigataganai" comments because I could see through them, the raw pain and fury of lost childhoods and opportunities. Visual images then are a visceral way to preserve these painful, not-often-talked-about aspects of JC history that all too often tend to get lost in rhetoric. They are immediate and palpable ways for us visual learners to understand "the experience" from a different point of view.
The art of Norm Takeuchi strikes me as being a bridge of sorts between the generations and cultures and therefore gets to what JC/Nikkeiness might be. "The paintings represent an uneasy search for harmony and balance between the two worlds but ultimately they are a celebration of my Asian heritage," he explains.
Takeuchi graduated from the Vancouver School of Art in 1962, then moved to London, England to concentrate on painting. He left a design career in 1996 to focus on art and has since participated in many solo and group exhibitions. His work is in several permanent collections, among them being, the Royal Ontario Museum, Canadian War Museum (Ottawa), Canadian Council Art Bank, City of Ottawa, and in private collections in Canada and abroad. A few choice pieces are on display now at the Royal Ontario Museum in Toronto until August 5, 2019. He resides and works in Ottawa.
Takeuchi remembers his Japanese Canadian family's exile from Vancouver during World War II through the eyes of a young boy on an adventure:
"We, along with other Japanese Canadians in B.C. were forced to evacuate our homes on the coast and move inland," Takeuchi recalls. "My parents, Nawoki and Miyoko, had to leave almost everything behind, including dad's new truck, which I think broke his heart."
"When, in February 1942, the government of Mackenzie King invoked the War Measures Act and ordered the expulsion of 22,000 Japanese Canadians from the west coast, my family was among them. Like others, my parents were issued demeaning government identification papers before they left their home taking with them only the small amount of possessions allowed. I was only five then and therefore have only faint memories of what happened but the overall impression I have of that time is of normalcy tinged with a feeling that something is not quite right even before the government call to round up all of BCs 'Enemy Aliens.'
"We were sent to a small community in the B.C. interior called Westwold, located on a highway between Kamloops and Vernon. We were a self-supporting family (something I only found out about much later in life) which meant we were not in a camp but nevertheless were forced to live in a place where we didn't want to be.
"Some of the things I remember: In Westwold, Dad riding his bike to go to work on the section gang; moving around to different places as our parents looked for work and doing whatever they could to survive - raising chickens, picking apples, felling trees, working in a lumber camp; one-room school houses; bad hair cuts; feeling humiliated and ashamed at the way Japanese were portrayed in comic strips; being poor and not realizing it.
"We returned to Vancouver in 1952 where my brothers and I attended Lord Byng High School. After graduation, I enrolled at the Vancouver School of Art and spent four years studying graphic design and painting. A Leon and Thea Koerner Foundation grant allowed me to go to London, England, where I set up a studio and painted for a year. Upon returning to Canada in 1962, I found employment in Ottawa and have since worked as a designer for the Canadian Pavilion at Expo 67 (Montreal), the Canadian Pavilion at Expo 70 (Osaka), and the Canadian Museum of Nature (Ottawa). In 1996, I left my design career and embarked on a new one as a full-time visual artist.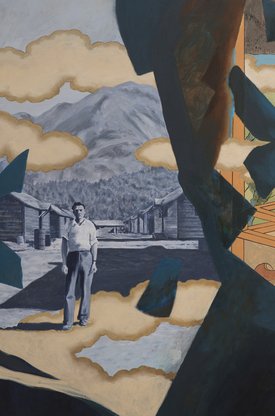 "The duality of being Japanese Canadian is at the heart of my recent work. As a member of a community that experienced the upheaval of the internment years, my art work embraces conflicting views: the earlier difficulties of acknowledging my Japanese heritage and the later acceptance of it. Unsettling and uncomfortable abstract forms which allude to the early exclusion years jostled with images from old Japan.
While he and his two young brothers, Bob and Ken, had a good time, "running around the countryside, it was our parents who suffered, trying to make ends meet. They would have dealt with it with 'shikataganai,' it cannot be helped, a resolution and determination to make the best of it."
"So, what does being Japanese Canadian mean to me? I was a 'Canadian' until I became a 'Japanese Canadian.' I didn't want to be Japanese until I became comfortable being one.
"The feeling of comfort and acceptance came only in later years when I discovered I was not alone in denying my heritage. I was finally able to see myself as Nikkei and not feel awkward about it. Even though the trauma and the injustice of the forced expulsion still haunts and saddens me, I have found a measure of pride in knowing that my parents and all the others of their generation bore the hardships with grace and determination so that their children would have a better life. They set the path that we now follow and I believe I am not the only one striving to not let them down.
"Meeting other Nikkei artists through the Being Japanese Canadian.... installation at the Royal Ontario Museum and the 'Blended' show at the Japanese Canadian Cultural Centre (Toronto) has, for me, strengthened the feeling of being part of the JC community with our common concerns and goals. I feel for the first time that we have a significant role to play in making positive contributions to the big Canadian picture.
"My work is a personal statement about that traumatic time and by creating images with paint and canvas, I have made concrete what for so long had remained ghostly. The work has helped to reshape how I feel about myself.
"While the paintings represent an uneasy search for harmony and balance between the two worlds, they are ultimately a celebration of my dual heritage."
* * * * *
Takeuchi's work can be seen at the Royal Ontario Museum in Toronto until August 5, 2019.