What does being Japanese Canadian (JC) mean to you? And, how was the world of your own family broken by the experience of internment?
That answer differs with each one of us. Pondering upon my own answer, I would list factors like my family's lost histories in BC, internment, forced labour on a Manitoba sugar beet farm, the so-called dispersal 'east of the Rockies', settling into tumultuous new lives and careers in Ontario, young families, getting back into contact with old JC friends and establishing JC communities all over again like brand new immigrants. The Issei and Nisei didn't waste any time contemplating about the personal aftermaths of the internment, or how our BC communities were destroyed. For my young parents, 1960s Toronto presented new challenges. Raising a family of four kids in suburban Toronto, putting us all through university, and me going to live and teach in Japan before resettling back in Ontario, I am mindful that this identity business is an ongoing process that I don't expect to end any time soon.
I arranged to meet my cousin Elm and Sansei artist Lillian Michiko Blakey, a retired teacher at the Royal Ontario Museum (ROM) entrance. Elm's mother, Dorothy, was Dad's eldest sister. His own interest in our family history has recently been kindled by my own which has recently taken me to looking more closely at the Ibuki family farm in Strawberry Hill, BC that was stolen from my grandfather before they were exiled to work as forced labour on a Manitoba sugar beet farm.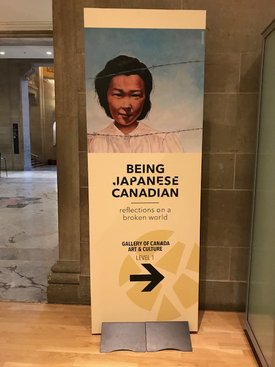 Lillian, you may know, painted the iconic Reiko, Alberta, 1945 of her young tanned mother standing smiling behind two jagged strands of barbed wire. Lillian kindly led the tour, following the signs to the Being Japanese Canadian: Reflections on a Broken World exhibition at the Royal Ontario Museum in Toronto. I've been here many times throughout my life, usually to see special exhibitions featuring dinosaurs or ancient, forgotten civilizations.
As we wander through the huge cavernous spaces, stone pillars, and glass cases towards the exhibition, I was looking for large signs that might mark the exhibition space. Instead, much to my surprise, we in fact had to search for the work of the eight artists. My initial reaction was one of confusion, unease, and even panic triggered by what was an uncomfortable juxtaposition of JC works of art interspersed in and amongst displays of the furniture and finery of the European Colonialists who of course represented the forces that destroyed our communities. In an odd way, I had the feeling that the powerful white ruling classes were doing it to us again.
Meandering through the exhibition then, a few particular highlights for me were Newfoundland artist David Hayashida's work Low tea in '43 (BRITISH Columbia) still boils (2017) mixed media. It was a brutally honest and bombastic comment about what it met to be JC back in 1943. The raw power of his punked out creation possesses a mosh pit of racist images, words, and slogans that were used to dehumanize us. The no-holds-barred piece struck deep, painful chords.
There was also Continuum: A Japanese-Canadian Cake History by Marjene Matsunaga Turnbull (born 1947, Vernon, BC) that was a brilliant telling of JC history that uses the device of a simple cake recipe to tell the story of the ingredients that went into the making of the Issei, Nisei, Sansei, Yonsei, and so on. It is an ironic and bitter sweet telling of where we come from and where we are going that also gets at some important truths about the complexity and conundrum of what we are today.
Other featured artists are Emma Nishimura (born 1982, Toronto, ON) An Archive Of Rememory and Collective Stories; Steve Nunoda (born 1963, London, ON) Ghostown and Ladder To The Moon; Laura Shintani (born 1971, Geraldton, ON) Mission 42; Norman Takeuchi (born 1937, Vancouver, BC) Interior Revisited and Yvonne Wakabayashi (nee Tasaka), (born 1938, Vancouver, BC) Tribute.
The inclusion of works created by internment camps was particularly moving. Included were a bowl made by Ichiro Matsushita, an inmate at Popoff internment camp, Slocan drawings by Kazuo Hamasaki and a parasol which was gifted to Seiji Onizuka (Greenwood camp), a reporter for the New Canadian newspaper, a remarkable creation made of cigarette paper and a broken chopstick, and a cedar chest made by the inmates of the New Denver camp for Aiko Murakami.
The exhibition was co-curated by Arlene Gehmacher, Heather Read, Bryce Kanbara, and Katherine Yamashita. I had a chance to interview Bryce Kanbara, Hamilton, Ontario artist and YouMe Gallery owner.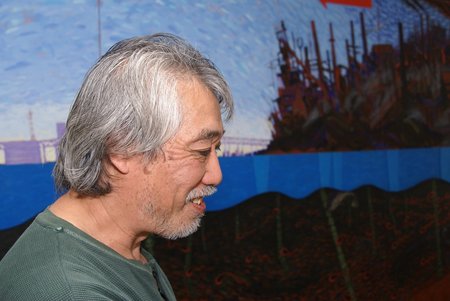 * * * * *
The ROM is quite the high profile venue for JC artists. Have they ever been featured at the ROM like this before?
No, but in the mid-1990s, Sansei architect, David Fujiwara, mounted the Five Generations exhibit at the ROM. It was a photo-based exposition that was resurrected by the JCCC around 10 years later and installed as the core exhibit of the Moriyama Nikkei Heritage Court. The ROM has also acquired JC art and artifacts lately – including paintings by Walter Sunahara and several items from this exhibit.
Can you take me back to the beginning? Who planted idea and how did it evolve?
The current ROM exhibition (we call it an installation) was proposed by Dr. Heather Read who was contracted by the ROM on a fellowship. As it turns out, her idea to intersperse artworks by Japanese Canadians to suggest a kind of parallel history within the large collection of colonial English and French art and artifacts in the Sigmund Samuel Gallery of Canada was unprecedented at the ROM. I appreciate the ROM's decision to take it on. These days, I think it's scary, but necessary, for large public institutions to step out of their usual ways of doing things and collaborate with diverse communities and tell their stories. I've read that this kind of working relationship requires "radical trust".
Can you elaborate on what you mean by radical trust?
In my various capacities as curator at public galleries, I know how much of a stretch it would be to allow outsiders have an equal say in how a project is designed and unfolds. But I guess radical trust means entering a relationship with mutual respect for one another's ideas and ways of doing things. Institutions tend to formalize procedures and approaches, which is absolutely necessary for orderly operation. But from time to time, when they purport to want to collaborate with the diverse communities, it's important for them to break open their minds and methods to other possibilities, other results. In the end, it's a matter of what it takes to bring familiarity and understanding among people.
I recall that there were some JC community discussions… Can you summarize what some of those concerns were through the process?
Before Kathy Yamashita and I were brought aboard the project, it had been substantially developed, and the ROM decided, belatedly, to hold a couple of "community consultations" – at the ROM and the Japanese Canadian Cultural Centre in Toronto. I think the ROM was startled by the critical feed-back at those consultations. Participants raised concerns about the general tone of the exhibition conveyed by some of the wording and the selection of work.
I notice that the term of self identification "Nikkei" is absent. How intentional is this?
Strange, I didn't really notice until you mentioned it. But I know we were very conscious of minimizing words and explanations, and as much as possible, letting the artists and their works speak for themselves.
There seems to be a difference in how JCs living out west and those of us out east might see ourselves. Can you comment on any differences that are apparent to you?
Heather tried to cover the geographical waterfront with her selection of artists, and I think the exhibition reflects that. The artists in the show are not all easterners. By east and west, you may mean BC and Ontario, but there are distinct prairie, French-Canadian and Maritime sensibilities that are part of the JC community as well. The overarching issue of JC identity and heritage in this project yokes the work together and surmounts whatever social and political dynamics that may have sprung up to differentiate us in the post-war years. Being Japanese Canadian reflects how each of the artists, in whatever circumstances they found themselves, chose to come to terms with his/her Japanese Canadianness.
Can I get a few words about what being Japanese Canadian means to you as an artist and curator?
My focus has shifted along the way - from my own exploration of identity and community, to curating exhibitions of work by JCs that reflect those issues (or not), and then to seeing those issues as being of potential importance to many other JCs who may not have experienced or thought about them much. From the random encounters I've had with JCs visiting the ROM, I realize that projects such as Being Japanese Canadian offer a touchstone for their personal and family experiences. I met a Nisei, Sansei, Yonsei / mother, daughter, and granddaughter, who talked about their family's internment, spent a long time looking at the works and then sat down together and watched all the videos. I'd like to think it was a memorable day for them.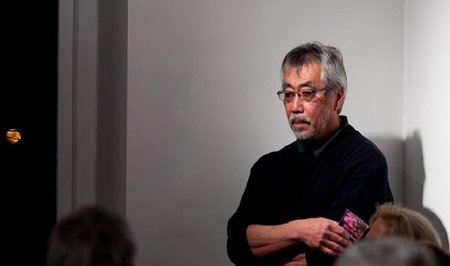 You are curating this show with another JC. Can you tell us about her?
Kathy Yamashita did her PhD dissertation in the form of a new media exhibition at the JCCC Gallery. It was comprised of a row of video monitors mounted along the walls running looped interviews with her female, Nikkei family members. They told their individual stories and the gallery was filled with a conversational buzz. Kathy defended her thesis in the gallery and had initially proposed to make it open to public access, as a kind of performance art piece – but it wasn't allowed. Kathy works tirelessly as an educator and has taught in high schools and at OISE. She's a member of the JCCC Art Committee.
Generationally speaking, can you speak to the narrative that is represented in this show? What are these pieces saying about our collective experience as JCs?
Although JC families endured different wartime experiences, they suffered the same historical injustice, the consequences of which were largely unspoken about, until Redress. It's not surprising that artists are expanding the conversation by addressing the lingering, emotional unrest, and posing questions. That's what artists do.
Are there any particular geographical differences of how these experiences are presented that might be worth pointing out?
The differences are generational, and at a glance, I'd say that the works of older Sansei, and Nisei are more directly personal and emotive – If their works don't convey this emotive force, then their statements surely do. The younger artists' works are leavened with formality, beauty, technical brilliance and even humour.
What pieces might speak most powerfully to you and your family's own personal story of internment and exile east of the Rockies?
Newfoundland artist David Hayashida's (born in Oakville, Ontario) set of English porcelain tea-cups, spilling ceramic "puddles" containing racist epithets ("Dirty Japs", "Once a Jap, always a Jap", etc.) and crude caricatures of Japanese men with buck teeth and big framed glasses, threw me back to the days when I was one of a handful of Asians at school. The images and words made me wince; they also reminded me that it was a hundred times worse for my grandparents, parents, uncles, and aunts.
When you were designing this exhibit, were there key messages that you wanted to make?
For me, the installation is an exploration of what it is to be Japanese Canadian. We chose Being Japanese Canadian as the title to cut to the chase.
As a community, what are some of the most pressing issues of this time? What are some of the barriers that stand in the way of our survival as a people?
It's ironic that you would ask a question about survival at an occasion where JCs are being accorded more/renewed attention. But I think you're right. There's an urgency to rally JCs around the project of community development. The barriers are in ourselves – within our personal successes and failures, our adoption of values, our expectations of others, our self-righteousness.
Can you speak to the support that you received from the ROM? What about the greater community?
The ROM has been a sometimes championing, sometimes reticent supporter of our ideas. This ambivalence – I would quickly add -- is unsurprising for a large public institution with an uneasy background of working with diverse communities, and that is dependent on funding from the Doug Ford Progressive Conservative provincial government. As a final exercise, Kathy and I sent a reach-out evite to senior staff, and to personnel in the departments we worked with, and invited them to meet individually or in small groups to review the show, and to talk in an informal setting. The response surpassed our expectations and many of our chats were at Café B at the Conservatory of Music building next door to the ROM.) The greatest sign of support is always the response from individuals who we meet in the gallery or after a presentation about the show. People are deeply interested in our JC story, in sharing their own stories, and in expressing their concerns about the past and future of this country. It's reassuring and quite moving, sometimes. When I visit the gallery, I read the written comments in the visitors book, and have wonderful conversations with people from all over. Ultimately, it's these one-on-ones that bring people closer together in understanding.
* * * * *
The Being Japanese Canadian: Reflections On A Broken World exhibition will be featured at the Royal Ontario Museum in Toronto, Ontario in the Sigmund Samuel Gallery until August 5, 2019.