"I am using flags as a metaphor for the fears, beliefs, aspirations, and behaviors which arise in societies under extreme stress, whether real or imagined. This anxiety could be caused by threat of war or terrorist strike, the effects of climate change, or the possibility of attack from infectious diseases, as examples. The flag symbol can embody pride and hope for the future, as in the case of a young person or a refugee but also, exclusionary forms of nationalism such as in the desire for racial purity."

—Canadian Sansei Artist Warren Hoyano
With the approach of the Winter Olympics where nationalism is on parade, it is timely to consider the significance of flags as a symbol in that dialogue as they symbolizes all that a nation has been and, most importantly, what it aspires to be.
On this 75th anniversary of internment too, I am reminded of the cultural significance of family crests, mon, that are a deep part of Japanese culture (remember those banner/flags used in the Kurosawa film Ran?), that the Canadian flag in 1942 was not in fact the glorious red and white maple leaf (circa 1965) that we fly today, and, perhaps, most poignant for me, that those huge red targets that were affixed on to the back of the uniforms of the Japanese Canadian POWs in Angler and Petawawa, Ontario camps not only mocked the Japanese flag but also provided an excellent bull's eye to aim at from the guard towers had prisoners tried to escape.
I recently had the privilege of meeting artist Warren Hoyano, formerly of Montreal, who now lives and works in Brampton, a city northwest of Toronto. He lives and works in a downtown condo high above the Flower City of red brick buildings and sprawling subdivision development that continues to crawl north towards Caledon.
He and Victoria/Montreal/Toronto artist Heather Midori Yamada recently collaborated in a duo-exhibition Look For Banners to Rise at the Toronto Japanese Canadian Cultural Centre.
* * * * *
Can you please tell me a bit about your family history? Where were your parents living in BC? Where were they interned?
Both of my parents grew up on farms in the Fraser Valley of British Columbia. My grandparents, Isaburo Hoyano and Yone Sugiura, settled in Port Hammond, now Maple Ridge. Part of their farm involved the early use of greenhouses in the cultivation of tomatoes. My mother's family, Torakuma Yanoshita and Ichi Isseri, farmed in the Mission area. They grew berries, among other things, on 20 acres in Mission and 15 acres across the Fraser River in Matsqui. Although my parents grew up relatively close together, they did not meet until after WWII in Montreal. They are both in their mid-90s and live there to this day.
During internment my father reported to Hastings Park and was eventually sent to a road camp in Schreiber, Ontario. His parents and younger siblings were relocated to the Slocan Valley. As for the Yanoshitas, my grandfather chose to go to the sugar beet farms in Alberta in order to keep the family together.


Where in Japan did they immigrate from?
My grandparents on my father's side immigrated from Kanagawa Prefecture and on my mother's side from Kumamoto Prefecture.
I grew up in Montreal and have an undergraduate degree in English Literature from McGill University.


As this is the 75th anniversary of internment, do you have any thoughts about this auspicious time?
As I get older the deeper my understanding becomes of the anguish and suffering that my grandparents, parents and their siblings endured. Both my mother's family and father's family lost farms that had taken years to establish. My father has said that his family thought they might be allowed to stay in order to care for the daily needs of their livestock but, of course, their wish was denied. In an instant they lost almost everything including their liberty. I have the utmost respect for what they accomplished in spite of the huge injustice and trauma they experienced.


Can you explain your evolution as an artist? How did you become a 'self taught' artist?
Circumstances both internal and external resulted in me being a self-taught artist. At the time I should have gone to art school I lacked the self-confidence and understanding of what an artist was to attend. Being a private person, I don't think I would have been able to withstand the very public and social nature of art school. However, in my mind, there is great value in the idiosyncratic vision, developed in private and brought to fruition over time. Being self-taught has allowed me to do that.
Had I to do it over again I probably would choose to go to art school. I doubt that I would be making the kind of art that I am making now, though. Maybe it would be better but it would not be the same. As an example of the personal vision that one might even say was followed to the point of eccentricity and obsession, is the Japanese artist Yayoi Kusama. I admire her career very much.


What artists, art movements and traditions influenced you? What makes them that for you?
Although I did not have much direct exposure to Japanese art when growing up a Japanese esthetic did filter into our household in the form of wall calendars, designs on Japanese tableware and the occasional book or magazine. In retrospect, I realize that this casual contact had an immense impact on my future artistic outlook.
Sumi-e (Japanese ink painting) in particular has always intrigued me. So much was done with so little and unlike traditional Western painting white space was part of the work. I remember during art period in elementary school being puzzled by a teacher's request that I fill in all the "empty" paper in a painting that I felt was finished. The choice of watercolour as my primary medium of expression stemmed from the fact that it was a close cousin of sumi-e. Sumi-e itself was not really an option since brushes, inks and paper were not readily available during the time I grew up.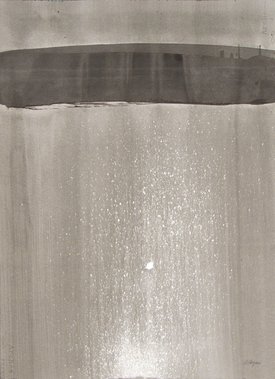 If you look at much of my work sumi-e's influence can be easily observed in such things as my choice of palette (see image 1). I often work with a very limited number of colours including a dominant dark value that is close to the black of sumi-e but in my style not quite that dark. In watercolour as in ink painting the white of the paper can play an important role in the composition of the piece. This pattern and contrast of light and dark is apparent in my work. Sumi-e uses the hard and soft edges of the painted surface to great effect and this is also something that I try to employ.
From the European tradition of watercolour Toni Onley, John Singer Sargent, Andrew Wyeth, J. M. W. Turner, and Paul Klee have influenced my style and continue to do so. All used the medium in robust and unique ways.
Among contemporary artists, Felix Gonzalez-Torres, the Cuban-American artist, is important to me. His work, "Untitled" (Portrait of Ross in L.A.), made me realize the legitimacy and potency of installation and conceptual art or art with a conceptual element. I admire his use of everyday objects, audience participation and the passage of time.
I'd like to mention one other Japanese influence and that is the black and white photography of such artists as Shomei Tomatsu, Daido Moriyama, and Masahisa Fukase. Their powerful, oftentimes ugly and disturbing images of the ragged edges of society reinforced my choice of producing work that was not attractive to the eye in a conventional manner.