A phone call redirected my career and changed my life forever. Dr. Theodore Chen, chair of the East Asian Studies Department, was on the other end of the line that day in the spring of 1963. He told me the University of Southern California (USC) had received a grant from the Carnegie Foundation to pilot a Japanese language program for the Los Angeles Unified School District. He knew me from my college days at USC where I was active in campus organizations, as well as having taken courses in the department. He asked if I would be interested in interviewing for one of the three schools: Dorsey, Monroe, and Venice. In particular, Monroe High School in Sepulveda in the San Fernando Valley.
I had gotten good grades in the two years of studying Japanese at USC, thanks to my ten years of Japanese school at the Gardena Buddhist Temple on Saturdays, but to TEACH it? I wasn't sure. I told my parents about it, and my father told me to go for it.
I was still a brand-new teacher, just in my first year at Foshay Junior High School where I had done part of my student teaching assignment. Part of the program would provide an 8-week Japanese language teaching institute during the summer at Seton Hall University in New Jersey. Dr. Sumako Kimizuka would supervise the teachers and the textbook would be written by Dr. Mieko Han. With all that support, I would not be left alone to my devices.
I agreed to be interviewed by the principal of Monroe High School. George Tashima, another teacher at Foshay, also interviewed for the job, but he didn't want to travel to the Valley and requested Dorsey instead. Dr. Chen told me later that Dr. Settle had wanted George because he thought a man would be better for the job! However, Dr. Chen gave me a strong, unqualified recommendation, so Dr. Settle took me.
Knowing his sentiment about a man being better than a woman, I set out to make him eat his words! I lived, ate, and slept my job teaching Japanese. Also, I thoroughly enjoyed it. I gave my life to my students 24/7. I wanted them to experience whatever cultural experiences were available and whatever I could provide myself. We sang folk songs, did Japanese dances, and they came to my apartment—just down the street—to sit on the floor, use chopsticks, drink tea properly. I taught a group of gifted students (whose programs were too full to take the class) on my own time after school four days a week, and once a week they came to my apartment for lessons and a Japanese dinner. The principal never knew, and in my naivete, I wonder now what liabilities the school would have faced.
We took field trips every weekend, and twice a month for about 3 years, a group would go to the Far East Café in Little Tokyo for lunch ("Ah, Monroe High School" was the waiter's greeting).
Before the year was over, Dr. Settle complimented me one day in the hallway. "I hear you're doing great things." I thanked him and felt vindicated but wondered why he had never visited my classes.
Because of my reputation at Monroe, the following summer of 1964, I was selected as one of two Japanese language/Asian Studies teachers in California, in total 16 in the United States, to attend the first Summer Fulbright Program in Japan. That experience expanded the world of Japanese culture for me, and it was the beginning of many trips to Japan.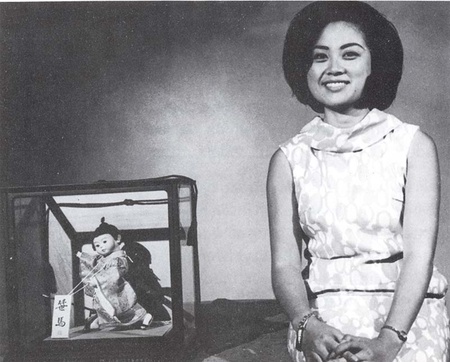 It was during a year's leave of absence from 1966 to 1967 in Japan that I had another turning point. This time it was to my Japanese Americanness. I discovered that even with being one generation removed from Japan, with studying tea, flower arranging, koto, and calligraphy, and with an adequate ability to communicate, I was more American than Japanese. I had to go to Japan to discover I was Japanese American. Yet, back in the U.S.A., I was not allowed to be totally American—because to be American meant being white. The Eurocentric attitude of Americans made me as immigrant as my father who was Issei.
The decision to take this year's leave without pay precipitated a second turning point which led my life to where I am today. The only other person in LAUSD who could teach Japanese (the others were already at Dorsey, Gardena, Venice, and Eagle Rock) was George Kiriyama. He was a temporary transfer from Pasteur Jr. High School to teach my class for one year. We corresponded to discuss lessons plans. Not knowing him, I wrote, "Dear Mr. Kiriyama." I was concerned as I received letters from students and they talked about "how funny Mr. Kiriyama" was. I hoped he was teaching them Japanese.
Three years later, as our common interests in Japan, Japanese, and Japanese American heritage and culture brought us together, we were married. I quit my day assignment when our children George (Jr.) and Traci were born, and later returned in the Adult division with a job at Gardena Community Adult School.
Because of George's strong background in Japanese and Japanese American history, my greater awareness and personal education began. Although I had always been sensitive to the WWII incarceration, my historical background was not that broad. I became more educated in my own history because of George and the experiences I gained through the Japanese American Historical Society of Southern California (JAHSSC), which had its roots in our home in Torrance. The early years of JAHSSC featured many lectures and panels on different aspects of Japanese American history and life, and the six or seven years that we gave in-services for public school teachers on the WWII incarceration (later expanded to the broader Asian Pacific American experience) helped give me even greater knowledge, appreciation, and understanding of my cultural roots and what makes me an American of Japanese ancestry.
That teachers are common turning points in their students' lives was brought home to me when a former Japanese language student of mine from Monroe contacted me in February 2000. It had been 29 years since we had seen each other. Todd, a white student, had been a good student in class, but it was a great surprise to find out he had gone on to study Japanese at Oregon State University because of an opportunity to complete his degree while in the U.S. Navy. His language facility became so good he was often called to interpret for the Commanding Officer of the 7th Fleet Flagship homeported in Yokosuka, Japan. He found me on the Internet through another student whom I had run into at the San Fernando Valley Japanese American Community Center's new building opening—25 years after he had graduated.
Todd told me he wanted to let me know the impact I had had on his life and his family. Taking the class had become a turning point in his life. It was a very moving moment for me when he told me over dinner with his family. I had known of several students who had changed career choices or studied Japanese in college soon after leaving Monroe, but no one had looked me up after so many years.
*This article was originally published in Nanka Nikkei Voices: Turning Points, in January 2002. It may not be reprinted or copied or quoted without permission from the Japanese American Historical Society of Southern California.