Earth Manual Project – This Could Save Your Life
Anna-Maria and Stephen Kellen Gallery
2 West 13th St, Ground Floor
New York, New York, 10011
United States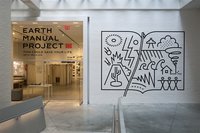 Earth Manual Project – This Could Save Your Life showcases some of the best practices for dealing with disasters at different stages—from preparedness education to response and relief efforts—with a particular focus on practices that use creative design ideas. Originating in Japan, the exhibition includes examples of work from countries where natural disasters are frequent, such as Indonesia, Thailand, and the Philippines. Projects introduced in the exhibition utilize distinctly creative and innovative approaches to disaster issues.
The exhibition is curated by Hirokazu Nagata, President of Plus Arts and Vice Director of Design and Creative Center Kobe (KIITO) in Japan.
For more information, please visit: https://events.newschool.edu/event/earth_manual_project_this_could_save_your_life_-_exhibition#.XAFZbNtKiUk

APA_Institute . 更新日 11月 30 2018 7:41 a.m.
---