Oshogatsu Family Festival
Japanese American National Museum
100 N Central Ave
Los Angeles, California, 90012
United States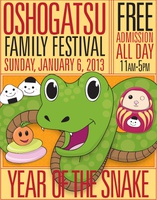 FREE admission all day!
Ring in the New Year and the Year of the Snake with fun arts 'n crafts, food, exciting cultural activities, and performances!
Check janm.org/oshogatsufest for updated info >>

PERFORMANCES & FEATURED ACTIVITIES
12PM – 5PM: Snake Sculpture Candy
Watch world-renowned candy artist Shaun Ichiyanagi make snake sculpture candy!(For children only. Candy snakes will be raffled off at the start of every hour)
1PM – 3PM: Onigiri Design Contest
Learn how to make onigiri rice balls in our Onigiri Contest. Sponsored by Common Grains
2:30PM & 4PM: Mochitsuki
Mochitsuki (traditional rice cake pounding ceremony) performance and demonstration by Kodama Taiko
3:30PM: Onigiri Contest Winners
Announcement of Onigiri Contest winners
ACTIVITIES
11AM – 5PM: Snake Jumper
Jump around in our fun snake jumper!
11AM – 5PM: Toddler Room
Come enjoy our fun Toddler Room
11AM – 5PM: Fukubukuro Sale
Special fukubukuro (lucky bag) sale at the Museum Store
11:30AM – 1PM: Taste and purchase different varieties of rice
Sponsored by Common Grains and JRE (Japan Rice and Rice Product Export Promotion Association)
12PM – 3PM: Omikuji
Omikuji (sacred lottery) will let you know what kind of year to expect!
1PM – 3PM: Reptile Petting Zoo
Reptacular Animals presents a Reptile petting zoo! Come meet real snakes and other cool reptiles!
1PM – 4PM: Face Painting
Party Faces will paint your face like your favorite zodiac animal!
1PM – 5PM: Zaru Soba noodles
Begin the New Year with lucky zaru soba (buckwheat noodles) with Kidding Around the Kitchen
2PM & 3:30PM: Learn to Play Taiko Drums
Learn how to play Japanese taiko drums with Bombu Taiko!
ALL-DAY CRAFTS (11AM – 5PM)

Celebrate the Year of the Snake by making some slithering snakes of your own!
Make a decorative wreath including all the Asian zodiac animals
Ruthie's Origami Corner: Fold your own origami snake

JANM . 更新日 2012年12月17日
---