KODO
Clowes Memorial Hall of butler University
4602 Sunset Ave
Indianapolis, Indiana
United States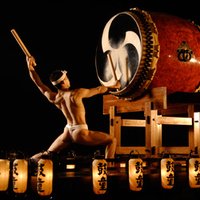 Presented by: Clowes Presents
"Primal Power!" "Bravura Beauty!" "Percussionist Kamikazes!" Critics and audiences alike continue to rave about the Japanese percussion group, KODO. While exploring the limitless possibilities of the traditional Japanese drum, KODO forges new directions for a vibrant living art form. Since their debut in 1981, KODO has given over 2,600 widely acclaimed performances in over 42 countries and continues to both preserve and re-interpret traditional Japanese performing arts. Time Out / UK says, "Nothing will prepare you for the 1,000 lb. drum assault, the precise timing or the wall of sound. An essential experience."
LEARN
Get more information on KODO at www.kodo.or.jp.
CONNECT
Explore the traditions and cultural significance of Japanese drumming by taking part in a pre-performance discussion with Sally Childs-Helton, ethnomusicologist, and Jon Crabiel, Butler University Percussion Artist-in-Residence at 3:15 pm in the Krannert Room.This discussion is free with your paid ticket to the event.
EXPERIENCE
Doors open at 1:30 pm. Come enjoy musical entertainment from pianist Michael Douce.
Take a walk around the lobby and view the current Art @ Clowes exhibit featuring 2011 Scholastic Art & Writing Winners (on display from February 15 - March 20 ).

intrepidmouse . 更新日 1月 25 2011 11:07 a.m.
---