Stir-Friday Night! presents BUBBLE TEA PARTY!
Chicago Center for the Performing Arts
777 N. Green Street
Chicago, Illinois
United States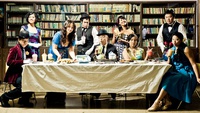 BUBBLE TEA PARTY directed by Pat McKenna
Fridays & Saturdays @ 7:30pm
October 29 - November 20, previews October 22 & 23
Get ready to celebrate SFN!'s 15-year reign of hilarity this October with our all-new fall revue "Bubble Tea Party!" We're bringing our special brand of Asian-American sketch comedy to the Chicago Center for the Performing Arts with some very special guests!
$15 tickets plus Food and Industry Fridays! Every Friday, you can bring a non-perishable food item or headshot and get $5 off the ticket price! Have a group of 10 or more? Call the Box Office at 312-733-6000 for more info!
Starring: Melissa Canciller, Amrita Dhaliwal, Samantha Garcia, Jin Kim, Christine Lin, and Harrison Pak.
Featuring: Erica Ikeda, Avery Lee, and Jasbir Singh Vazquez.
Musical Director: Shane Shariffskul
Technical Director: Ed Schweitzer
Photos by Glen Abog
Chicago Center for the Performing Arts
777 N. Green Street
Chicago, IL 60622

intrepidmouse . 更新日 2010年10月7日
---