Film Screenings: Digital Histories 2010
National Center for the Preservation of Democracy
Tateuchi Democracy Forum
111 N Central Ave
Los Angeles, California, 90012
United States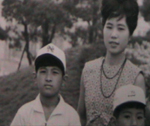 Los Angeles Asian Pacific Film Festival: Program 48 - Digital Histories 2010
The Film Festival is pleased to present the sixth edition of this groundbreaking project of Visual Communications and Little Tokyo's DISKovery Center. The perspectives of our elder media artists might lack the technical polish of some big-budget blockbusters, but their works speak far more eloquently than anything playing in the local multiplexes.
— Steven Wong, Brian Tsukamoto
Total running time: 66 min. FREE ADMISSION! GET TICKETS
MY FIRST CHANGE
Dir.: Yoshi Miyake
A documentary short about one man's recollection of the first big change in his life – moving from Japan to America – and how it changed him as a person.
LITTLE TOKYO TOWER
Dir.: Hideko Ibaraki
An inside look at Little Tokyo Towers and its inhabitants as told by one of its residents.
THE JARANA
Dir.: Sandy Challe
A father and daughter form a bond through a traditional Yucatecan folk dance called "The Jarana".
CHIMA #2
Dir.: Chima
Chima demonstrates that a busy and fulfilling lifestyle can be great therapy.
MY CHILD IS GAY
Dir.: Harold Kameya
The story of a family that supported their daughter's sexuality, and their experiences in speaking out about it in the often conservative Asian American community.
THE LAST DANCE
Dir.: Michi Tanioka
The third installment of MIchi's "Dance" series has her saving the last dance for the most important person in her life—her husband.
A NEW HAPPINESS
Dir.: Sumiko Urquhart
Diagnosed with cancer, Sumiko looks inward to her body and her health to understand and gain piece of mind.
TO GET A DATE
Dir.: Jeannie Wong
After a failed marriage and several bad relationships, Jeannie Wong turns to her diverse group of friends to seek advice on how to get a date.
FAMILY PIANO
Dir.: Arlene Maala
Arlene Maala explores the memory and sounds of her old family piano and how it came to be in her family home.
8535 MELROSE AVENUE
Dir.: Chicky Otani
A look at a successful small business on Melrose Ave. during the early 1980s.
HIROSHIMA ASSOCIATION ACTIVITIES
Dir.: Bill Kanzaki
An overview of a cultural association that thrives despite the lack of new membership.

vkm . 更新日 7月 09 2010 12:14 p.m.
---