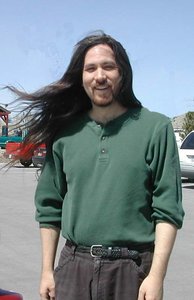 When my son Michael was in high school he was approached by a group of young Navajo men who asked him, "What tribe you from, brother?"
"Tribe?" he replied, puzzled.
"You look like a Dine from Shiprock."
"Shiprock?"
"Yeh, you know, you guys from Shit Rock."
When they slowly started toward him he backed away. "I'm not from Shiprock. I don't even know where that is," he said.
"Don't know your own nation, brother?"
"You've made a mistake. I'm not Indian."
"Indian? We're not either. Those guys live in India. We're not from ...