Itadakimasu! A Taste of Nikkei Culture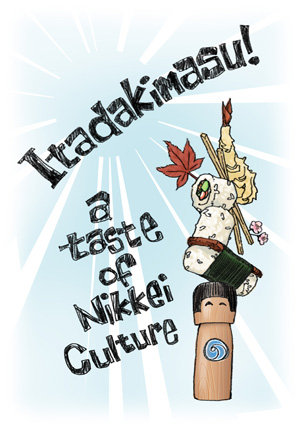 For many Nikkei around the world, food is often the strongest and most lasting connection they have with their culture. Across generations, language and traditions are often lost, but their connections to food remain.
Discover Nikkei is excited to announce the launch of Nikkei Chronicles, a series of annual theme-based writing projects with the overall goal of promoting a more profound understanding of the complex histories and insights of multicultural, multiracial, and multinational people of Japanese descent around the world.
Our inaugural theme is Nikkei food culture and its impact on identity and communities. We want to collect together as many diverse stories from around the world as we can, so we invite you to submit personal stories and essays, memoirs, academic papers, book reviews, and other prose genre.
All stories submitted for our Itadakimasu! that meet the project guidelines will be published on Discover Nikkei as part of this series. In addition, our editorial committee will select their favorite articles per language to be featured and translated into our site languages!
Please join us and share your favorite food stories on Discover Nikkei!
Essential Questions
Questions that might be addressed in your submitted work (but you are by no means limited to) include:
How has your family adapted Japanese recipes to fit local ingredients & tastes?
Is Japanese food a part of your annual community festivals, holidays, or family traditions?
What foods did people eat in the World War II camps?
What seeds, recipes, or special tools did the Issei bring with them from Japan?
How has Nikkei farming and agriculture influenced food or other industries around the world?
Did your family or did you adapt Japanese recipes to fit your regional ingredients, your personal tastes and dislikes?
How did other cultural influences effect the kinds of Japanese food you ate?
Was food a part of your annual festivals, holidays, or family traditions? How?
Did you grow up eating something that you can't get anymore? Do you find substitutes?
What is your take on fusion food found in restaurants?
Do you eat natto? Does that mean that you are Nikkei (or not?)
We are also interested in stories that is research based or historical in nature, such as:
What foods did people eat in US World War II camp?
Do you know stories of Issei seeds and special cooking or preparation tools brought from Japan to plant in their adopted countries?
What is the origin of the California roll (or other fusion Japanese dishes or cuisines?)
What is the relationship between Nikkei farming and agriculture and how it has influenced food or other industries around the world?
Recipes are accepted, but they must be accompanied by a story or background information on why the recipe is meaningful to you or why you are compelled to share it within this forum.
Of course, if you have a question about whether your idea or topic is appropriate for this project, please don't hesitate to contact us.
Submission Guidelines
In order to include your story in the Itadakimasu! A Taste of Nikkei Culture project, please review the following instructions:
ARTICLES
All submissions must be related to Nikkei experiences, history, and/or culture. Articles must meet the following length, format, and languages criteria:
Accepted writing formats: Personal stories and essays, memoirs, academic papers, book reviews, and other prose genres. For this particular project, we are not accepting poetry or video submissions.
Accepted languages: English, Japanese, Spanish, Portuguese
Length:
English, Spanish, and Portuguese articles should be about 600–1,200 words.
Japanese articles should be about 800 to 1,800 characters.

Foreign words should be italicized. For example: My tio Frank made a bento for lunch.
All articles should be submitted as Microsoft Word documents. We will NOT accept PDF or printed copies.
Previously published works are ok with copyright permission cleared by the author, but your submission cannot be previously published on Discover Nikkei. All copyrights for the piece will remain with the author, but upon submission, permission is granted to Discover Nikkei to publish the work on our website and with any other publication (electronic or print) in collaboration with the Itadakimasu! project.
Note: If you have other types of Nikkei-related stories that don't fit within the Itadakimasu! project, you can still submit them! Check out regular Discover Nikkei Journal submission guidelines >>
IMAGES
We encourage applicants to submit at least 1-2 photos to illustrate your story.
.jpg or .gif files—72 dpi, at least 600 pixels wide preferred. If you do not have the capability to resize the image, send us the file and we will do it.
Only submit images that you either own copyrights or have secured permission to use for this purpose.
Provide a caption and/or photo credit for each image if necessary.
Do not include images within the Word file. Send image files separately.
AUTHOR INFORMATION
Submit a short 3-5 sentence bio written in the same language of the article that you are submitting.
Send a portrait of the author as a .jpg or .gif file at 72dpi, at least 200 pxl x 200 pxl. The photo will be cropped to a square image. If you do not have the capability to resize or crop the image, send us the file and we will crop the image for you.
Articles written by multiple authors are accepted. In this case, please submit all authors' bios and portraits.
Deadline for Submissions
Submissions will be accepted from April 15 through September 30, 2012 at 6pm (PST). Stories will be published on Discover Nikkei beginning in May, so don't wait until the end to submit!
You must download and fill out the Itadakimasu! project submission form and email it with your article and images files. We will only accept email submissions only.
Multiple submissions are accepted; however, each submission must be accompanied by a separate submission form.
Download the Submission Form (MS Word file) >>
Download the Submissions Checklist (PDF) >>
WHAT ARE YOU WAITING FOR? GET WRITING & SUBMIT YOUR WORK TO DISCOVER NIKKEI!
E-mail your submission to Editor@DiscoverNikkei.org with subject title: "Itadakimasu submission – [Contact person's name]"
Contact us at Editor@DiscoverNikkei.org if you have any questions.