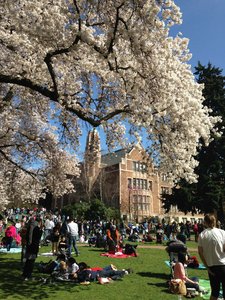 Each time I've tried to write about hanami in Seattle, there's something that makes me hesitate.
Maybe I'm thinking about it too much through the prism of what happened this year. I'm a JA girl who celebrates Girls' Day with mochi and pancakes, so I can't expect authenticity in traditions. This year, as we took our young daughters, I couldn't help feeling a certain nostalgia for a different kind of hanami, perhaps even a desire for a broader awareness of this tradition in Seattle.
I learned about hanami in college, but didn't experience ...