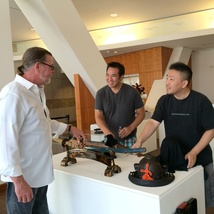 Darin S. Furukawa and Mike Yamasaki are co-curators Japanese American National Museum's new exhibit for the month of August, Jidai: Timeless Works of Samurai Art. Together, they are preserving and passing along an appreciation for traditional Japanese culture.


Responding to emailed questions, Darin shared his perspectives on the exhibit.
1) How did you gain expertise in Japanese swords? A brief bio, please.
I am actually more familiar with samurai armor than swords, but I consider myself still very much a student of both. I graduated from Stanford University with a degree in Art History, with a significant amount …