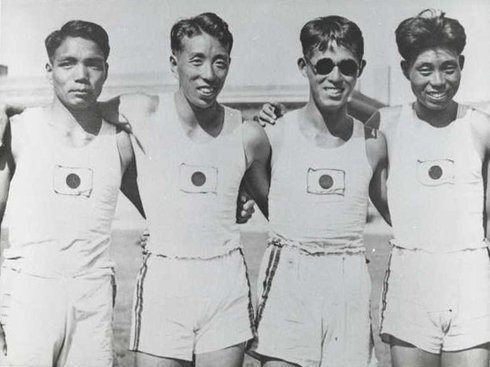 Nisshoki ga
Sutadiamu no men masuto ni agatta
Ima dewa yume de nakunatta.
Kakkoku tokutenhyo ni
Nihon wa gungun nobotte yuki.
Rosanjerusu no aozora ni
Sanran to, jitsuni sanran to
Hirugaette iru
Nisshoki no ikuhon.
Kangeki no kiwami de, mi wa furueru.
Kanki no namida ga mazu otsuru.
Yushowa yushowo gekisan suru.

The flag of the rising sun
Went up the main mast.
It is no longer a dream.
On the scoreboards for each nation
Japan's points are rising fast.
Gloriously, truly gloriously
Several Japanese flags are fluttering
Against Los Angeles' blue sky.
My body shakes with emotion.
Tears ...