Nikkei Chronicles #1 — ITADAKIMASU! A Taste of Nikkei Culture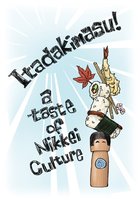 We were on our way from Los Angeles to Turlock, located in the central valley of California, for what I believe was my grandmother's funeral. My father's mother passed away in January so we were naturally a sullen group.
During the winter there is usually snow on the Grapevine, a portion of the Interstate 5 freeway that connects Northern and Southern California, complete with road closures and sometimes perilous fog and mudslides. This necessitated my family in flying out of LAX to Fresno where we would rent a car to drive the rest of the way to Turlock ...