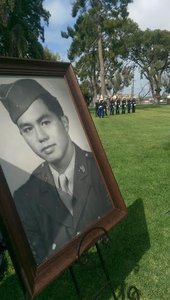 Kazuo Masuda and the Nisei who served in the U.S. military were remembered at a Memorial Day ceremony at Westminster Memorial Park. The Masuda family story is important nationally, as this is the family specifically mentioned by President Ronald Reagan when he signed the Civil Liberties Act of 1988.
Kazuo Masuda will be one of three Nisei soldiers whose story will be featured in the upcoming Congressional Gold Medal Digital Exhibition by the Smithsonian Institute National Museum of American History.
Congregants of the Wintersburg Mission and farmers in Talbert (Fountain Valley), the Masuda family story can be found at ...