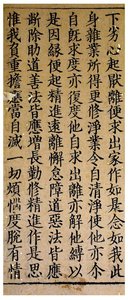 Read Part 1 >>

Identifying the Copier

If we were to imagine the copier and burier of the Lotus Sutra Stone Scripture based on the results of the examination described earlier, the person would be a detainee, conversant with the Lotus Sutra, skillful in coping and burying Buddhist scriptures, and an able calligrapher (it is actually quite artful work).
A single likely candidate emerged from a search of articles appearing in the Heart Mountain Sentinel: the Rev. Nichikan Murakita, a detained missionary in the Nichiren lineage (more precisely, a Honmon School of Hokkeshu). A leader of the Heart Mountain Buddhist Association ...