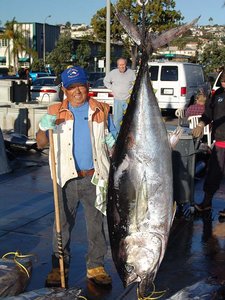 Have you ever read Ernest Hemingway's famous novella: "The Old Man and the Sea"? It is a tale of stamina and survival in which Santiago, an old, unlucky Cuban fisherman attempts his last catch in the Gulf of Mexico. He lands a gigantic marlin, but despite all efforts, what he brings home is only the skeleton. A pack of sharks that nearly did him in too, ate his gorgeous catch.
Had Hemingway met Beans Sogioka in January 2006, when Beans was already 86, he might have developed the story differently.
On January 6, to be exact, Beans landed six ...