Nikkei Chronicles #9—More Than a Game: Nikkei Sports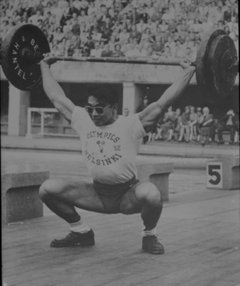 Nikkei athletes have won numerous national, world, and Olympic titles in the sport of weightlifting. Richard Tomita, Emerick Ishikawa, and Harold Sakata represented the US at the 1948 Olympics in London, along with Chinese American Richard Tom. Tom took the bronze medal in the bantamweight class, and Sakata took the silver medal in the light-heavyweight class. Sakata later achieved show business fame as Oddjob in the James Bond movie Goldfinger. Along with swimmers and divers, these lifters were in the forefront of Asian American athletes who achieved worldwide recognition.
The 1952 Olympics in Helsinki saw 22-year old Sacramento native Tommy ...