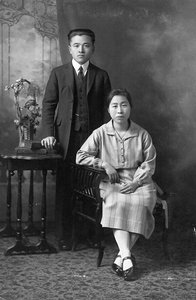 Read Part 1 >>

Remembering 'Okasan' and 'Otosan'

My mother, Jun Ogawa was 8 years younger than Dad. She was born a Buddhist and was forever a Buddhist but she wanted us children to be Christians (she respected other religions also) as we were living in a Christian country and would blend into the Canadian society easier. I think she was helping out in the United Church as she often made reference of what Rev. Kosaburo Shimizu was always doing. She always referred to him as Shimizu Sensei, teacher.
She was teaching public school in Hose, Japan before she was married ...