Speaking Up! Democracy, Justice, Dignity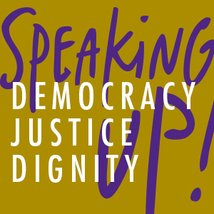 It was a quirky millisecond contact of eyes in the city of angels, city of strangers.
In 2011, I was in Los Angeles, attending an Asian American symposium. During a break before supper, Ray Hsu, a poet from Vancouver and I were exploring an area called Japan town. My first time there. Gift shops, restaurants, tourists milling about. We were wandering back out of the plaza when from out of nowhere a voice called, "Joy!"
I turned, looked up.
"It's YOU!" he said.
It took me a heart-beat.
"Oh! Asao!" The same happy eyes. The same excitable boyish charm ...