Canadian Nikkei Series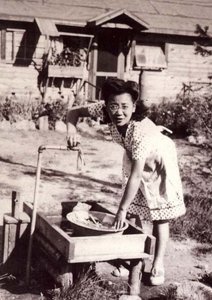 What do you remember about life in the camps e.g., eating? Toilet? Baths? School? Your mother passed away there. Was she also buried there?
I experienced my first train ride from Vancouver (Hasting Park) to Slocan City, a four-day trip. Quite exciting for me – for mother and sisters, tiring and exhausting with only sandwiches to eat. We arrived in Slocan City in the fall of 1942. There were no living quarters available. Some families whose husbands or sons had arrived earlier to build houses for the arrival of their families were able to be put-up almost ...