Kizuna 2020: Nikkei Kindness and Solidarity During the COVID-19 Pandemic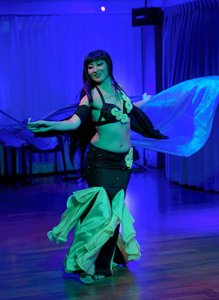 So far, dancing is not on the list of prohibited activities under the current Ontario Emergency Lockdown.
In Part 6, we're featuring three JC dancers who make their living as dancers: Vancouver Budoh dancer Jay Hirabayashi, son of Gordon Hirabayashi, and his partner Barb Bourget are the founders and teachers at Kokoro Dance. Denise Fujiwara operates the Fujiwara Dance Inventions in Toronto and Hiroe Hoshi (aka "Nema") is a well known Victoria, BC belly dancer, performer and teacher.
In going through some of my pictures from my nine years in Japan, I came across one of ...