Speaking Up! Democracy, Justice, Dignity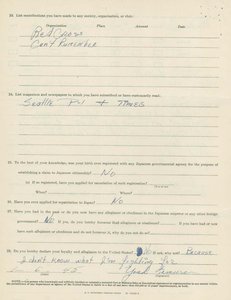 Read Part 2 >>

Records of the Selective Service System, Record Group 147

Until recently Selective Service draft registration records from World War I and II were stored at field offices of the National Archives. The draft records have been moved to a single, central location at the National Archives at St. Louis and can be accessed there. Draft registration cards typically include address, date and place of birth, employment, citizenship, date of registration, and descriptive information. Using Gordon Hirabayashi again as an example, his draft card indicates that he registered on October 16, 1940, and noted that "I am a ...