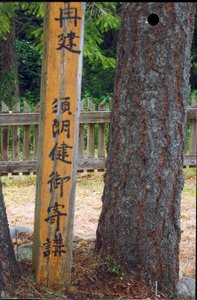 There's only one obvious sign today that Slocan, British Columbia was an internment camp for Japanese Canadians during the Second World War.
At the back of the village cemetery, a picket fence surrounds a rock slab with two trees growing out of it and a wooden pillar between them with Japanese inscriptions on all four sides. The origin and meaning of this monument has been the source of considerable speculation and puzzlement. Who put it there and when? Is it actually a burial site?
Some answers appeared thanks to Simon Fraser University, which digitized The New Canadian, a Japanese ...