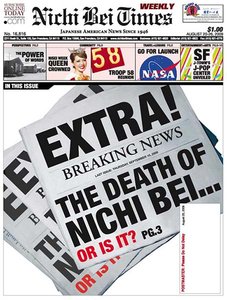 The Nichi Bei Times' board of directors has decided to close Northern California's oldest Japanese American newspaper on Sept. 30, 2009 after 63 years of business. In its place, a group of Nichi Bei Times staff and community members plan to start the Nichi Bei Foundation, a separate nonprofit reincarnation of the paper.
Kenji G. Taguma, the Nichi Bei Times' vice president and English editon editor, has pioneered plans for the new Foundation because he believes the paper is an essential voice for Japanese Americans.
"Today, I see the paper as the glue that holds the community together,"
Taguma ...