Kizuna: Nikkei Stories from the 2011 Japan Earthquake & Tsunami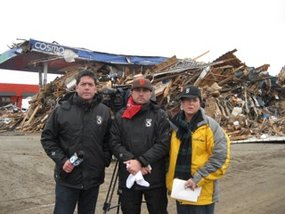 I returned home from Japan last night and wanted to share a few thoughts, a few behind-the-scene moments and a link to a way you can help the Japanese people.
This assignment began a week ago Thursday night when the magnitude 9 earthquake hit. Morning News Executive Producer Tim Scowden called me at home to wake me and let me know we'd be going on early--at 4AM. He also knows that as an American with a Japanese mother, I have friends and family in Japan and that I'm involved in the Japanese American community here in the States ...