Nikkei Chronicles #10—Nikkei Generations: Connecting Families & Communities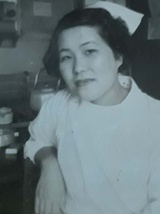 June Baldwin and her son Leon reflect on their mother and grandmother, Hiroko Kadowaki, who migrated to New Zealand in 1956 after marrying a New Zealand soldier she'd met in Hiroshima.
* * * * *
JUNE (Nisei):
My mother, Hiroko, grew up on the small island of Daikonshima in the middle of a lake in Matsue City, Shimane prefecture, on the north-west coast of Japan. She was the third of four children. Her parents farmed their land. Mum often talked about their fruit orchard and soy beans, and how they made their own soy sauce and silk.
Mum dreamed …