ANAHEIM, Calif. — In 1992, Walt Disney Pictures released the first in a trilogy of sports comedy/drama films called, The Mighty Ducks. A year later, Disney founded the NHL franchise team The Mighty Ducks of Anaheim.
With its inception at the 1993 NHL Entry Draft, the team selected their first ever pick, a young talented Japanese Canadian from North Vancouver, B.C., Paul Kariya. He was fourth overall in the draft and playing for the University of Maine. This would queue the opening scene to a dramatic hall of fame career. Following a World Championship gold medal and Olympic Games silver medal in 1994, over 9,000 fans showed up for Kariya's first NHL open practice on Sept. 6, 1994 and 16,000 fans cheered on the Mighty Ducks at his first pre-season game Sept. 18, 1994. What the Mighty Ducks lacked in their inaugural season they found in Kariya, and a star was born before he even played in his first official game.
Kariya's career with the Mighty Ducks was celebrated when his jersey was retired and his No. 9 banner was raised to the rafters of the Honda Centre in Anaheim, Calif. on Oct. 21. The jersey to be retired in Anaheim's 25 year franchise history, Kariya's banner joined teammate and long-time friend, Teemu Selanne, who was also there for the dedication.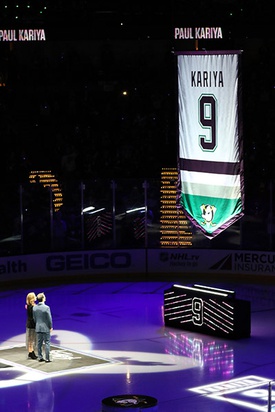 "I couldn't have asked for better teammates, and I certainly could not have asked for a better group of friends," Kariya said in a speech during the ceremony. "I was very lucky to start with an organization that gave me an opportunity to have a big role right away, and to be asked to be a leader early in my career."
The celebrations took place before the Anaheim Ducks (the team was renamed in 2006) game against Buffalo in their home arena. The honours included emotional speeches, including one from Kariya, who has made few public appearances since his retirement in 2010.
Kariya's Hockey Hall of Fame career was filled with highlight reels from his junior career with the Penticton Panthers (BCJHL) where he won junior player of the year in his sophomore season, amassing an amazing 132 points in only 40 games. In his freshman year at the University of Maine, he was the first rookie ever to win the Hobey Baker Award, the top NCAA Division 1 player in the league, and the last to score 100 points in a season while helping the team win the national title. His international career runs deep, earning gold medals at the Olympics for Canada in 2002 as well as the World Juniors and World Championships.
But in his 15 year NHL career, all of his major NHL awards came in his nine year tenure with the Mighty Ducks of Anaheim. A two-time Lady Byng Memorial Trophy winner for most gentlemanly player, he played in seven NHL all-star games and at season's end, was named to the NHL All-Rookie team, three times to the NHL first all-star team, and two times to the NHL second all-star team. Paul proudly served as captain of the Ducks for seven of those years and amassed 669 points (300 goals, 369 assists) in 606 games played. Kariya still currently holds 17 franchise team records with Anaheim (and two with Nashville) in addition to ranking first on the all-time greatest point per game average of 1.10.
Kariya and Teemu Selanne became teammates in Anaheim in 1996, and one name could not be mentioned without the other's as the dynamic duo became one of the most lethal scoring threats in the NHL as well as best of friends. They played 308 games together from 1996 to 2001 accounting for approximately 35 per cent of all the team's goals and went on to finish second and third in overall NHL scoring twice, and fourth and fifth in their final full season together (1999-2000). Fittingly both players were inducted into the Hockey Hall of Fame together in 2017.
The two were united again, this time in the rafters of the Honda Centre in Anaheim, when Kariya's No. 9 was raised next to where Selanne's No. 8 has hung lonely since 2015. Selanne, had the honour of introducing Kariya during the pre-game ceremony with high praise and many entertaining stories.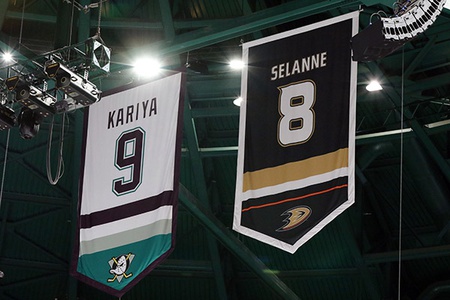 "I will always remember when I saw Paul first time, it was 1993, Toronto, NHL Awards and I got honoured for Rookie of the Year and Paul was there as winner of the Hobey Baker for best college player of the year," said Selanne. "I always remember when they called Paul's name and I saw this little boy walking to the stage. And I was thinking, 'Wow, this little boy must be a very, very special player. I didn't even know they played hockey in Japan!' Then my agent actually told me Paul is from Vancouver, and I said, 'Okay but he still must be a very, very good player.' So a few years after, I found out how good he really was and who would've guessed at that time what kind a journey we would have together."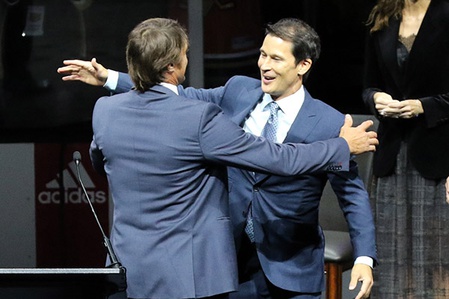 It was clearly an emotional night for Kariya, the ultimate conclusion of a dramatic saga about an undersized player who possessed all the skill, speed, work ethic, leadership and determination to play the game as it was supposed to be at the top level, with class and respect. He overcame several injuries but ultimately was forced to retire due to post-concussion syndrome. In his speech, Kariya thanked the many unsung heroes, friends, family and of course, the fans.
"Over the years, many of the games, the wins and losses, have faded from my mind. But I can remember like it was yesterday, the ovation I received, stepping onto the ice, my first practice here," said Kariya. "The roar of this crowd when we beat the Phoenix Coyotes in seven games to win our first playoff series back in 1997. And in my last game here, you literally and figuratively picked me off the ice in game six of the Stanley Cup finals.
"Thank you to all the fans for supporting me for nine incredible years. Thank you for supporting the team and the Ducks organization for 25 seasons. And thank you for making tonight, the most memorable night of my life."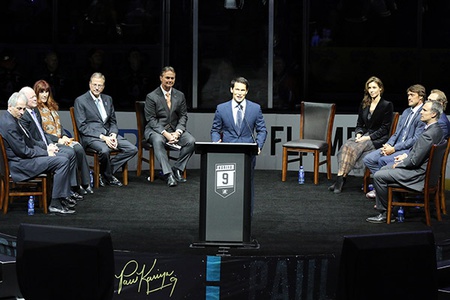 After the ceremony, Kariya took a moment to speak to the Nikkei Voice.
When asked how it feels to be an inspiration to young players, like Japanese American Kiefer Sherwood, who played that evening and says Kariya is his mother's favourite player, he interjects and chuckles, "Well that's how old I am, I can't be his idol."
But he is, and he has built a dedicated and strong fanbase in the Asian Canadian and international communities.
"It's always been very nice, like from when I started here in Anaheim, to get letters and fan requests from Japan and to be embraced by the Asian community, that means a lot to me," he said.
Kariya has truly been an inspiration to many. As a longtime fan, I don't think he truly understands nor would he accept any credit for how big of an impact he's had on people beyond the hockey world. But if the ending credits of this film of his life were to include all those he's touched in his career, we'd be needing many more refills of popcorn.
Thank you, Paul for inspiring people to play the game with class, to overcome obstacles whether it be physical or mental, to be humble at all times, and to be the best version of themselves.
*This article was originally published by Nikkei Voice on January 14, 2019.